Many companies are considering the possibilities of creating "digital sub-stations". However, so far, high capital expenditures and complexities are resulting in the need to remove a wide range of power distribution equipment by taking them out of service.
Based on these needs, Profotech has developed equipment (transformers) for "digital sub-stations" that will provide solutions for converting analog signal into digital signal that is implemented in a step-by-step procedure. This procedure allows for the smooth transitions from analog to digital without losing any service or power from the provider. Current analog equipment will never have to be turned-off or disconnected during this implementation process.
The first stage of this process provides for the installation of the integrated measuring system which consists of electronic fiber-optical current transformers and electronic voltage transformers with capacitive divider ( EFOCT and EVTCD) and The ARIS Measurement Module that is manufactured by Prosoft-Systems, LLC. All of the systems will be registered with The State Register of Measuring Equipment in Russia. The systems are provided with a "unified certificate" for measuring devices.
The sensing sensors and ARIS modules are connected to each other via a standard digital interface of IEC 61850-9-2. The ARIS module fulfills the functions of: digital measurement, development of data for commercial metering, quality parameters, and the remote measurement of electrical power.
The module comes complete with the standard interfaces of RS485 and RS232 Ethernet types to transmit data to the external systems and can be modified or customized for specific data output protocols of standard electric power meters (A1800, EPQS, L@G, Actaris, etc.,) and remote measurement systems (IEC 104). This makes it possible to connect to commercial metering systems of electricity. It also allows for availability of remote measurements from facilities without disturbing their operations.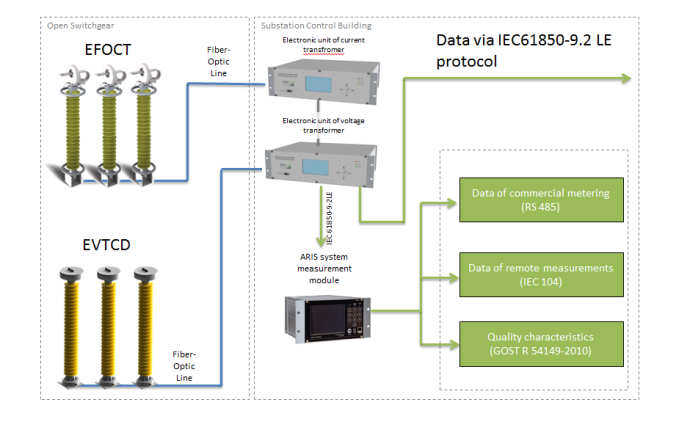 Also, there is a separate IEC61850-9-2 standard outlet for measurement available that can be used for connection to the digital relay system that makes the transition to a "digital" sub-station easy and trouble-free.
As a result, the customer receives an opportunity to train the staff for operating the equipment without disturbing the current measurement process. Also, allowing other devices being operated under the IEC61850-9-2 to transition effortlessly to the "digital substation".
A distinct advantage of the system used by Profotech is the low weight and small dimensions that allow it to be mounted immediately onto the outgoing circuit thus, eliminating any problems of metering the electric power when switching the line to the bypass circuit breaker.
The supreme measurement (metrological) performance solution will make it possible to use it as "a basic measuring device" in accordance with ATS OJSC regulations.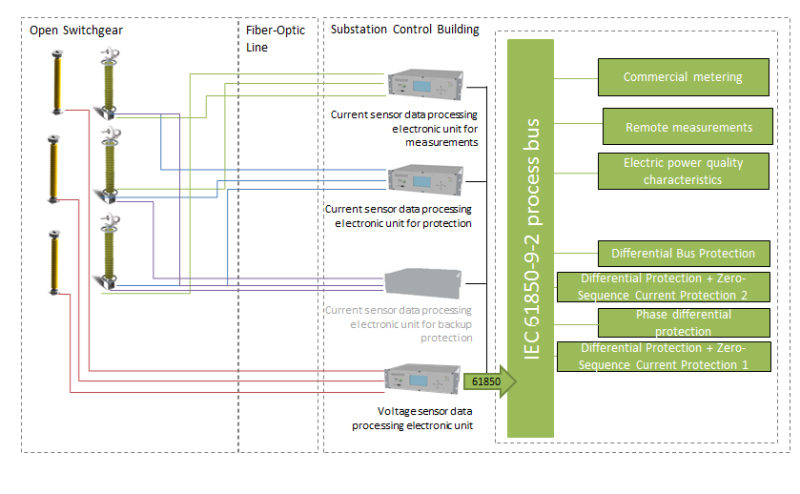 Content of fiber optic measuring system:
1) Electronic fiber-optical current transformer*:
- Three single-phased current meters;
- One electronic module. 
*On customer's request can be supplied with supplementary electro-optical processing units for relay protection and automation and for its reservation.
-Electronic voltage transformer with capacitive divider: 
- Three single-phased voltage meters;
- One electronic module. 
2) One module Aris for commercial accounting, telemetering and measuring the values of electricity control.
Module ARIS EM302
Capacity of allowed non-volatile memory

Up to 2 GB

Main memory capacity

64 MB

Processor type

ARM9

Internal data bus

Ethernet

Power supply voltage

1st type: 120-370V - direct current and 85-265 V – alternate current. Operating supply voltage - 220V of alternate current.

 2nd type: 18…36V - direct current. Operating supply voltage – 24V of direct current.

Quantity of extension slots

6

Consumed power, W

Not more than 80

Overall dimensions, mm

275х245х135

Display and keyboard

Color LCD 5,7, 320х240, 12-button keyboard

Display size

5,7"

Port count RS-232

From 1 to 4, galvanic insulation -1,5 kW

Port count RS-485

8, galvanic insulation - 1,5 kW

Ethernet port count

(excluding extension ports)

2хRJ45 or 2хSFP

Synchronization with exact time source

From inbuilt GPS source or external NTP server, with 1msec accuracy

Maintained protocols

IEC 61850-8-1 (client, server)

IEC 60870-5-10 (client, server)

IEC 60870-5-104 (client, server)

IEC 60870-5-103 (client)

Modbus serial (RTU/ASCII)